Success online is totally possible! When you step back and look at the big picture perspective of how others are succeeding on Instagram, there is a lot to learn.
These are 4 of my favorite Instagram accounts and I learn something different from each.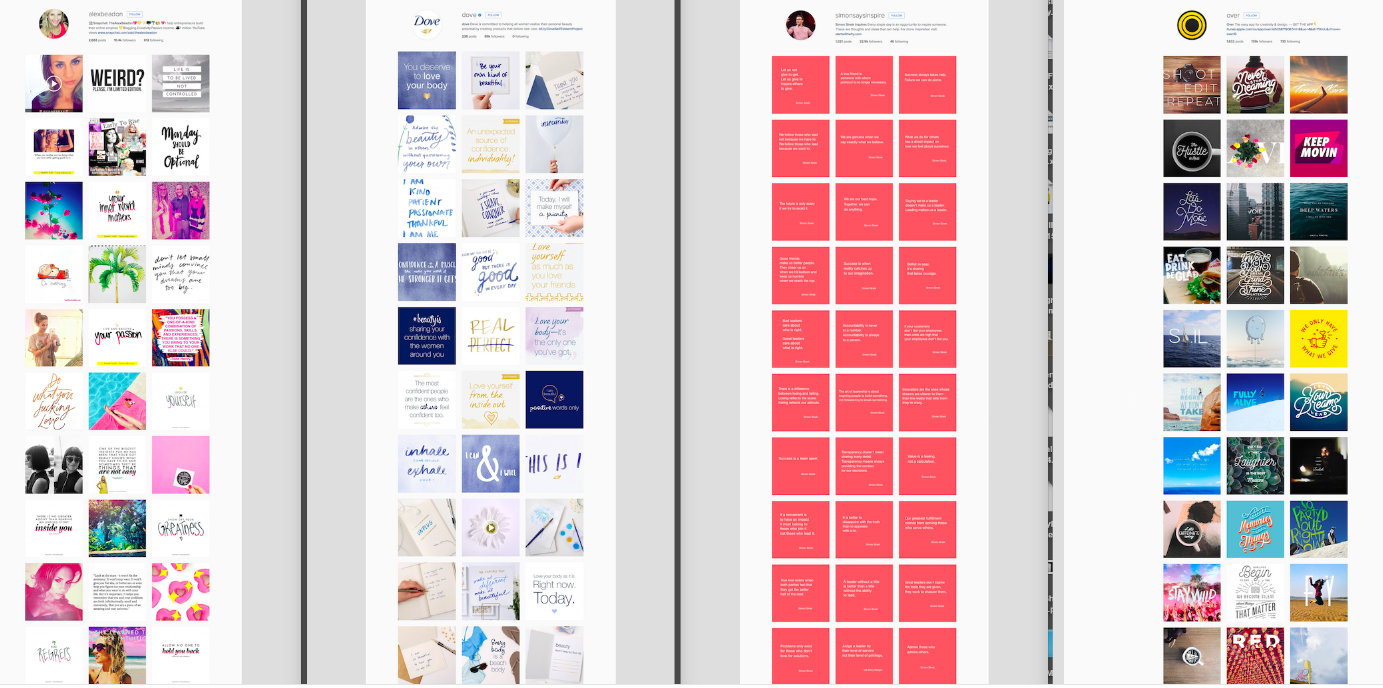 When you study these from a distance and when you get really close to actually see the hashtags and copy each business is using, it's fascinating.
One of our favorite Dreamosity sayings is "Observe. Appreciate. Attempt. Adjust" and that's exactly what I'd encourage you to do.
How to find success online with Instagram
Mobile Tools Matter!
4 Major insights from studying these brands.
1. Color
While the olden days of having 2 colors in a brand are long gone, the ability to be creative and disciplined are still valued from the viewer.
2. Consistency
None of these users tried IG 1x or a for a month. They are extremely consistent.
I even noticed Dove had a recent shift in strategy and if you look at their current page, it's more about the faces who use dove, than the encouraging message they were sharing when I captured this screenshot months back.
3. Culture
The essence, energy and culture of your brand if not clearly defined, will not be very noticeable online. Those with strong company culture, strong clear messaging, and a strong visual palette tend to stand out and become favorites faster than those who appear random.
Being random is totally fine if we're using it simply for personal use & fun, but when customers, fans, and followers begin to expect something from your company, the game changes.
4. Creative use
Showcasing HOW people can leverage your product, helps them know how to use it and it serves as a valuable reminder to do so. If your productive increases creativity, productivity, or profitabilty, it should be clearly visible in what you post creatively .
Follow these Creative Instagram accounts for inspiration
In order of appearance left to right.
Follow AlexBeadon
Follow Dove on Instagram
Follow SimonSaysInspire
Follow Over
Every brand goes through creative development cycles, slumps, and change. Allow your connections to inspire new ideas and strategies. Success online is possible because others are achieving it. Learn from them!
Consider these questions when developing your online content
How do I want people to FEEL when they see my images?
What colors will encourage that feeling?
Will the photos I post encourage or discourage their progress?
How can living my story inspire / educate / entertain them?
What is your current Instagram strategy for success online? Share in the comments below!